MUMBAI, INDIA – March 7, 2015 – ECGC (Formerly Export Credit Guarantee Corporation of India Limited) and Dun & Bradstreet (D&B) distributes an award every year to Indias best-performing export companies. It is a tribute to the leading exporters from various sectors which include manufacturing; trading and services. Companies with a minimum 10% revenue from the export sales for FY14 were eligible for nomination. Gislen Software received two awards. First for Best Services Exporter (Micro) and the second for Best Overall Exporter (Micro).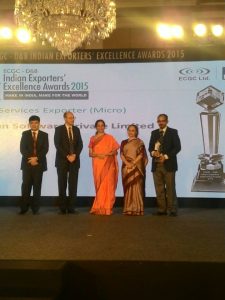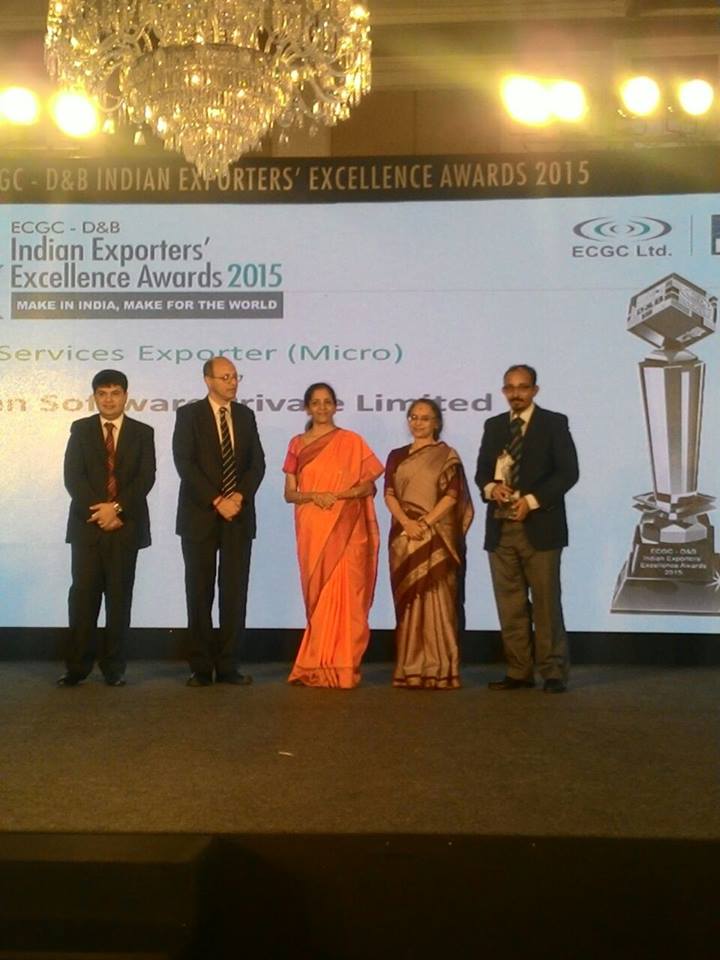 This was the second time in less than 6 months Gislen Software was awarded for its performance as one of the leading small and medium-sized software companies in India.
The award was presented at a grand ceremony at Hotel Trident, Nariman Point, Mumbai and was attended by eminent business leaders and senior government officials. The awards event was accompanied by the release of the publication "India's Leading Exporters 2015". The publication profiles leading Indian exporters including the award winners.
Smt. Nirmala Sitharaman, Hon'ble Minister of State (Independent Charge) for Commerce & Industry, Government of India presented the award accompanied by Smt. Geetha Muralidhar, Executive Director (CMD-addl. Charge), ECGC Ltd, Shri. Kaushal Sampat and President & MD – India, Dun & Bradstreet.
Anand Kumar Vyas, head of our Integration Department who received the award on behalf of Gislen Software said "It's a great honour for me to accept these awards on behalf of Gislen Software. It feels like a tribute for all the hard work we have put in during the years to grow and maintain our high-quality standard and it feels very rewarding to stand here today and I would like to thank the jury and the organisers for selecting us. It is a welcome recognition of our significant effort to excel and stand out as a leader in our field".
He continued "We recognise that we have only reached this far due to the enormous effort of our staff, and the trust our clients have put into us and our company. I see this award as a milestone to strive even more to lead and to serve our clients, our employees and society even better in the years to come."
About Gislen Software:
Gislen Software is leading providers of Software Development Services, Integration Services and Accounting services mainly to the Nordic market but also to the British Isles. Gislen Software has worked with and delivered large projects to leading clients including ABB, European Association of Cardio-Thoracic Surgery, Scandinavian Airlines and TNS as well as various successful start-ups and smaller companies. During more than 20 years of its existence, Gislen Software has served more than 50 clients. The company has more than 60 staff members with its headquarters in Chennai in South India and a subsidiary in Stockholm in Sweden. The company donates 10% of its profit to Little Lambs Educational Trust which it has founded and which ensures high-quality education to underprivileged children, actively tries to reduce its environmental footprint with solar panels, insulation and other means, and works for equality in regards to gender, religion and communities and has exceptionally low attrition rates thanks to loyal and hardworking employees. Gislen Software was founded in 1994 by Swedish entrepreneur Mikael Gislén, who is also the Managing Director. Gislen Software recently celebrated its 20th anniversary.
About 'ECGC – D&B Indian Exporters' Excellence Awards 2015'
The ECGC – D&B Indian Exporters' Excellence Awards 2015 are a tribute to the leading export enterprises in India for their significant achievement and notable performance during the years. A total of 33 awards were given across various sectors. The award winners were finally decided by a Jury comprising of industry experts and eminent professionals from the relevant industry. For more information on the awards please check out the official press release.
For more information contact:
Mikael Gislén, Managing Director
Telephone +91-44-22627541
Follow Gislen Software on
Web: www.gislen.com, www.gislen.se
Twitter: @MikaelGislen
Facebook: https://www.facebook.com/GislenSoftware
LinkedIn: https://in.linkedin.com/company/gislensoftwaree
Was this article helpful?